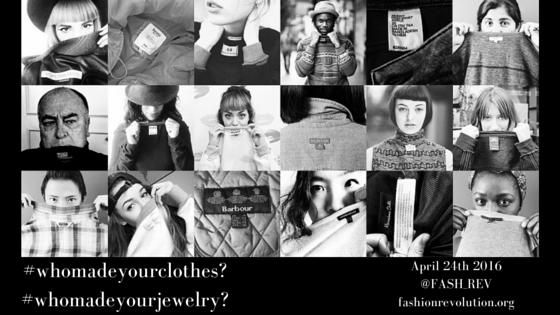 Why do we need a Fashion Revolution?
On 24 April 2013, 1,134 people were killed and over 2,500 were injured when the Rana Plaza complex collapsed in Dhaka, Bangladesh.
That's when Fashion Revolution was born.
1,134 is too many people to lose from the planet in one factory on one terrible day to not stand up and demand change.
Please join the Fashion Revolution and ask: who made my clothes/who made my jewelry?
---
Calling all fashion revolutionaries!
The pro-fashion protesters.
The disruptors who dare to say
"I can change the world."
It's time for a Fashion Revolution. 
---
Before April 24th 2016, please:
BE CURIOUS
We need to become more curious about how our clothes are made and who made them.
FIND OUT
Get in contact with brands and ask them 'Who Made My Clothes', to discover the real people throughout the supply chain.
DO SOMETHING
We want hundreds of thousands of people around the world to take part. Together we can use the power of fashion to inspire change and reconnect the broken links in the supply chain.
We believe transparency is the first step to transform the industry. And it starts with one simple question: Who made my clothes?