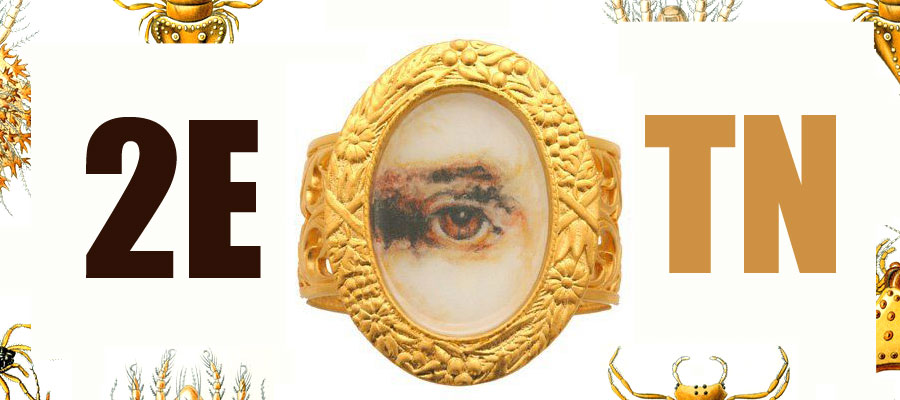 Q & A WITH AMFM
Thank you to our dear friend Ciera McKissick of amfm !
Q & A WITH 2ETN
By: Ciera Mckissick
Pamela Tuohy of 2ETN is many things— eclectic like her jewelry designs , a mix of vintage, green, and urban. She's the kind of hip lady that will come to your roof party and speak french with all the kids, who will be out protesting at the Occupy Sacramento rally, and be dressed to the nines for an event the same night.
She exudes elegance and in return it shows in her work. Elegant like the strong and quiet buffalo's and birds that she draws inspiration from, and from the beetles and spiders that show strength. She combines elements of hard and soft with the wrought iron recycled and vintage pieces that she works with, combined with the whimsical drawings of Ed Novinsky, the other half of 2ETN and her other half.
Her jewelry is couture meets rustic. Her work has been featured in numerous fashion publications, including W, Elle Accessories, Nylon and Vibe. It is more than a pleasure to have her featured in the Sac Issue of amfm. It is even more of a pleasure to have had the opportunity to get to know her as a designer and a friend.
amfm: Why do you seek to redefine the concept of precious jewelry and how do you do this?
2ETN: There are a whole lot of lobbyists and ad agencies and PR firms that have been telling us over the years what a symbol of marriage, luxury and beauty "should" be. We are much more attracted to the idea of art and true sentiment. When we began creating jewelry we also were studying about the negative effects that the jewelry industry has on culture (especially indigenous people) and the environment and did not want to be a part of that.
It was from that education that 2ETN was born: seeing imagery, as the focal point in jewelry and seeing value in that. The fact that over 20 tons of waste are created to make one gold ring and that lives are lost to mine a diamond were facts that we could not overlook. So we responded to that "problem" by creating a line of jewelry that ignores those demands and responds to like-minded people that want a piece of jewelry that is one-of-a-kind, created by a few artisans with all materials sourced ethically.
amfm: How does nature influence your work? How do you use nature and history as a guide?
2ETN: Nature has such an elegance about it and everything has a purpose—solid, grounding and never frivolous. In most jewelry and in fashion, there are trends. We try to find a certain permanence in our work by looking at the quiet, deeply rooted tree or the immense ocean or the stillness of a lake. We have a certain reverence for history and nature, as we see what has come to pass as a way of learning and being educated.
2ETN is not interested in our present celebrity culture, but interested in those that came before us, that helped created the present. We reference many etchings, drawings, painting of nature that were created prior to photography, because our work contains images that Ed draws or paints and there is a certain richness to imagery that comes directly from nature and not a photograph.
 amfm: What is the 2ETN philosophy?

2ETN: That we do for "work" and how we live our lives are one. Finding that balance between what we do for a living, how we live and who we are. They are all connected. The lines are magically blurred. Work (2ETN), family, friendships, gardening, exploring, etc., all tell the same story of interconnectedness and respect for each other and the environment.
Finding balance andquality of life through love, respect and work. We also believe that precious stones and metals are not the sole element from which jewelry derives its value. This belief and deep interest and respect of Native American culture informs the philosophy behind our jewelry.
amfm: How do you and Ed's work complement each other? Do you work together? Influence each other? What is the process of making a piece?
2ETN: We create a (very) limited amount of jewelry..maybe three pieces a month on average. I design the jewelry, making sure that Ed has a space or a "frame" like area where he can paint or draw an image. We then work together and begin creating by either being inspired by an image, a story or a piece of jewelry that we have found. If it is a found/collected piece of jewelry we see what image fits best and then begin to create a "canvas" for that piece, sometimes using reclaimed wood, or bone.
If an image or story inspires us or we are creating a custom piece of jewelry, we create the frame out of metal that best suits the image, this usually takes between 7-12 days and then we add the image. When the piece is a necklace or a bracelet there is more design work in creating the stone and crystal work to go with the piece. This process usually takes two to eight weeks from start to finish and a bit longer if someone wants us to create a custom piece using a vintage piece of jewelry that they supply.
Ed is responsible for creating the imagery on all work. I am responsible for designing all of the jewelry; however, every step of this journey is done together. We check in on each other every step of the way, including packaging, outreach, web design, etc. It is truly a collaborative process.
amfm: How did you get started designing jewelry? How did you market yourself in the beginning? When did you start gaining exposure?
2ETN: I began designing jewelry while in college in San Francisco working for an amazing design duo: Navarro Alternatives. This husband and wife team worked similarly to how we work today. I was lucky enough to be their daughter's friend at the time and they brought me in to create and design for them. They were true pioneers in the world of one-of-a-kind jewelry design incorporating found objects. They also did this amazing job of hiring family and friends, so it was an amazing environment to be in.
This is exactly the environment that we try to create at 2ETN. In 2005 I started a line on my own called Pamela Tuohy Jewelry that used photocopied imagery from the public domain. Little by little I began to see this type of work everywhere, especially using found vintage items. The concept has gotten so trendy that now "Vintage-like" jewelry is being created by just about everyone and most manufactured in China. I couldn't compete with that nor did I want to.
My reaction to that was to begin finding rare vintage pieces and designing my own "frames" in Sterling and asked Ed if he would create the imagery inside of these pieces. I was a bit nervous when I first asked Ed to create imagery for the jewelry as he usually works in large format and has been selling his work for many years, but luckily he has immense respect for the miniature artists and the work that was created pre-photography, so 2ETN was established in 2008.
amfm: How has your work evolved over time?
2ETN: We had an amazing PR group out of NYC in the beginning and they helped us get most of our press. However, when our work transformed in to only one-of-a-kind work, we did not see the need for that type of exposure, as we could not create the quantities that are demanded by that type of outreach.
What has been refreshing for us is that by word of mouth and by the wonderful blogs that have been written lately we receive a significant amount of press and we are so very grateful for that. It is actually perfect for us. The clients we have presently have a deep understanding of what we do and are not driven by what is trendy, but by what is made well and by what every one else does NOT have!
amfm: What kind of person are you designing for? Who wears your jewelry?
2ETN: We design for the person who wants something that no one else has. For the person who respects storytelling. Our hope is that 2ETN tells these stories—weighted with meaning, expressions of joy, beauty, bereavement, joinings, separations, bonds, friendship, love, power, respect, healing, sentiment, and birth. We believe that those stories should be told authentically and with care in a personal and in a "quiet" non-exploitative, non-trendy fashion.
amfm: Why birds, bugs and skulls?
2ETN: Bugs and spiders mainly because I had a phobia of these precious creatures and by wearing imagery of them, those phobias are gone. Some of our other clients have had the same reaction! [It's] really exciting for us when someone who has had a fear of a certain creature, buys one of pieces and gets over it!
Birds, well, we just love birds, especially birds of prey. We have hawks that visit our yard and I suppose it is the beauty in the cycle of life. Skulls are particularly interesting to us because of a profound respect for death, and for the fact that death seems so taboo in our culture and we believe there is beauty in it.
amfm: What is the weirdest thing you've been inspired by?
2ETN: Haven't found that as of yet..nothing has really been weird or off limits…however, we don't do kitty cats, dogs, or clowns.
amfm: Where do you find the recycled pieces that you work with? How do you know when a specific piece is "the one"?
2ETN: Finding pieces usually on the road at antique fairs. We especially like purchasing special pieces from an owner with a story about the piece. If we find something one-bay, we make sure that we connect with the owner. It is important to us that it comes from a place with a story attached. Therefore, it is "the one" if it has a story, has a space to create an image in, or if a client has a piece that they would like to see recreated in to a 2ETN work.
amfm: How has Sacramento influenced your career and embraced you as a designer?
2ETN: Sacramento has allowed us to afford to live and work as artists. It is the perfect environment to create in for us. Near to an airport, 1.5 hours away from San Francisco and the mountains. We can grow our own food here. Living on a flat grid lets us ride our bikes often. We love the farmers markets and the little bars and restaurants that are springing up all over midtown. The tree coverage is especially encouraging.
Lately, we have seen an influx of artists to this community for the same reasons I believe. Local media has been really good to us, and yet, we do not have many clients in this area at all. Our clients are mostly in Dallas, NYC, LA, Chicago, San Francisco & Seattle. We even have a few in England and Italy.
amfm: How is 2ETN a part of the green movement? and part of your proceeds go to a buffalo ranch?
2ETN: 2ETN uses only reclaimed or recycled material. We source locally when we can, and try to only buy made in USA. Even our boxes are made by a family back East. We also believe that precious stones and metals are not the sole element from which jewelry derives its value. This belief and deep interest and respect of Native American culture informs the philosophy behind our jewelry.
2ETN gives a portion of our proceeds to The Village Earth Adopt-a-Buffalo campaign www.villageearth.org. My husband and I are greatly influenced by Native American philosophy. We want to honor the fact that the Native Americans were the first indigenous people on this continent. By contributing to the revival of this Native industry we feel we are giving back to the resources (and people) we have taken advantage of.
amfm: What story do you want to tell with 2ETN?
2ETN: We mostly want to tell story of beauty and grace and courage and respect.
amfm: You just finished up a new line, and some new photography for it, how has the response been? How long did it take? What was the inspiration behind this?
2ETN: The new shoot came about because we are also designing many pieces for men now and work that can be worn by both men & women, hence the WO + MEN addition to our collections page. With exception of the Eisenberg Pieces, most of our work could be worn by either sex. The reaction has been very positive thus far.
amfm: What's next for 2ETN?
2ETN: We are always looking for ways to collaborate with other designers. Locally we love working with Van De Neer. Ideally we would love to have a show of our work and have local musicians like Sister Crayon and Sea of Bees play, ideally taking that show on the road. Wouldn't that be amazing?
We always like to use live models in our show..and works from Fashion Designers. Last year we did a show with Gail Chovan/for Blackmail Atelier called "13". She used our work again in a show called "14" and took our work with her to the El Cosmico festival in Marfa.
2ETN is also beginning an outreach campaign with hopes to have one store/gallery in each major city (or not major depending on if there is interest in our work or not!), ideally six or so pieces in 10 or so locations throughout the US and hopefully Paris, London…even working on a store in Japan.